Digital Transformation in Diagnostics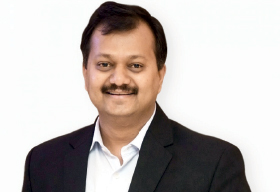 Headquartered in Pune, KPIT Technologies is global IT Consulting & Product Engineering company with proven excellence in the areas of Business Technology Services, Embedded Systems Development, Enterprise Software Support, Energy & Utilities, SAP, Oracle, and many others.
To what extent has the medical diagnostics industry adopted digital technologies?
Historically, the healthcare industry in India saw little to no digital technological disruption. However, technology is becoming pervasive in the diagnostics industry. In India, the medical diagnostics industry is largely unorganised, with a large number of mom-and-pop shops, essentially clinics, having a pathology laboratory as an extension of their services. There are only a handful of players comprising 10-15 percent of the organised sector. With an annual turnover in thousands of crores, they have a huge potential to accelerate their growth and enter the untapped market by providing digital technologies-based services.
Today, digital transformation is an enterprise-wide effort as organisations focus on both provider centricity and customer-centricity. Digital transformation creates a better customer experience, as well as improves service levels of all the stakeholders involved in the value chain, including doctors. Technologies like portals, mobility systems and kiosks present a unified experience that strengthens the bonds between customers and hospital networks/franchise networks.
Also,currently, there is scope to provide a complete customer experience. For example, there is an opportunity to offer a home-
based service to collect samples, which increases customer convenience, as well as enables the diagnostic centre to provide services on-the-go.

What are the impediments to the implementation of digital transformation in organisations? How can they be addressed?
The first concern is data security. Patient details, including medical history, being out there in the open web can compromise privacy and create ethical issues. Addressing data leaks through technology is essential. The second impediment is that the large-scale implementation of diagnostics depends on the availability of consistent, accessible and organised data, which is still a challenge. Finding ways and means of addressing it is essential. For example, a regular CT or MRI scan generates close to 1TB of data, which can be extracted and analysed to discover various disease patterns. The third challenge is to have a holistic view of the digital developments across the medical diagnostics practice. Restricting digital transformation to only certain areas of the medical practice limits the possibilities that it can provide to an organisation. The fourth aspect is the training of people on the use of new digital solutions, which requires a cultural shift in their mindset. It can be done by conducting regular training modules that shorten the learning curve of individuals.

"It is also imperative to remain consistent in providing a great customer experience by keeping regular checks on the consumer's feedback/perception and expectations from the services"

Tell us about the levers that drive digital transformation success.
Two levers majorly drive the success of a digital transformation initiative: business process transformation and customer engagement. It is critical to have a non-siloed business process that enables the enterprise to make the most informed decisions about efficiency gains, customer insights or a strategy to deliver the services that customers want. It is also imperative to remain consistent in providing a great customer experience by keeping regular checks on the consumer's feedback/perception and expectations from the services.

What will be the next game-changing technologies in the diagnostics and healthcare industry?
Smartphones and digitisation will also drive process modernisation and accessibility of healthcare. Mobile apps and telemedicines will allow doctors to provide online consultation and prescriptions to populations in rural areas. Also, digitisation and cloud will help in the creation of a centralised database for better management of patient data. The use of predictive analytics will help in the accurate diagnostics of patients.

In the future, there could be a possibility of self-operated robotic kiosks being put to use to register customer records via ID/QR codes, collect blood samples of patients with a mere prick on the skin or analyse the vital medical stats of a user and provide a detailed report within hours.